Werribee Park
What a great day for a drive, sun shining, blue skies, almost no wind, and great company.
We all met for the trip at the Laverton Mc Donald's, Tim and Deb led from there and took us past a lot of market gardens, a scenic route!   We arrived at Werribee Park and had our choice of parking spots. There were no hard luck stories on this trip, which was good.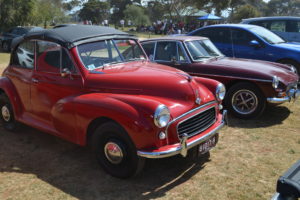 The mansion and surrounding parkland were picturesque, with plenty of history to take in around the mansion. Unfortunately, the rose garden was not yet in full bloom but full of promise.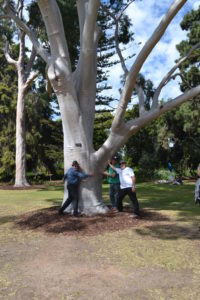 As you can see by the pictures we had one or two tree huggers in our group! We had the mansion almost all to ourselves for a self-guided tour. Considering when this place was first built and the isolation from Melbourne and Geelong, what a lifestyle the Chirnside family had! And take in the fact that all the joinery fixtures and fittings would have to have been brought from Europe, and the sea voyage would have taken 6 months then carried to site by horse and cart, hopefully without breakages, what a feat it was! It was the first house in the country to have hot and cold water plumbed in when the house was built. The grey extension on the back of the mansion was a 20th century extension by the Jesuit order to turn the house into a seminary, which existed until 1973. This puts planning and building a modern house into 'easy street' by comparison. Of course, being mega rich might have helped, the Chirnside family owned most of the land from Werribee to near Sunbury! As always thanks to all who attended and made the day so enjoyable.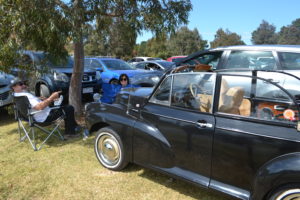 In attendance were: Rob Quinn (Morris Minor tourer), Bill Flaherty (Morris Minor tourer), Valda and Graeme Web (MG-GT), Stephen Whitworth (modern), Tim Christie and Deb (modern), Joyce and Joe Farsaci (modern), Marilyn and Tony Bullen (modern).
Club Captain Tony Bullen.