What a great day, and even the weather couldn't dampen our spirits!.
It was cold at times wet, windy, thunder, and hail. It was so good to catch up with everyone after so long.
We only had three classic cars in attendance so we didn't run the Show and Shine competition. Geoff was in his Mini, Annette and John in their Moke, and Bevan in his Oxford. A number of members travelled a long distance to attend this outing including Sale Geelong and Lismore. Thank you to all who attended, with a special thanks to those who travelled a long distance. I would also like to thank Marilyn for all the help, input and support she has given, not just for this outing but all the outings I have organised.
It was great to catch up with our y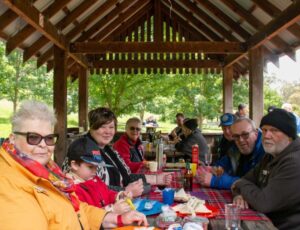 oungest member, Olly. He has shot up considerably and, like most five year olds, is full of fun and personality.
Keep an eye on the Club website for all the outings coming up, some of which will be recycled from this year while in lockdown and that we didn't get to do. Hopefully third time lucky!
All the best for the festive season and New Year.
Club captain Tony Bullen