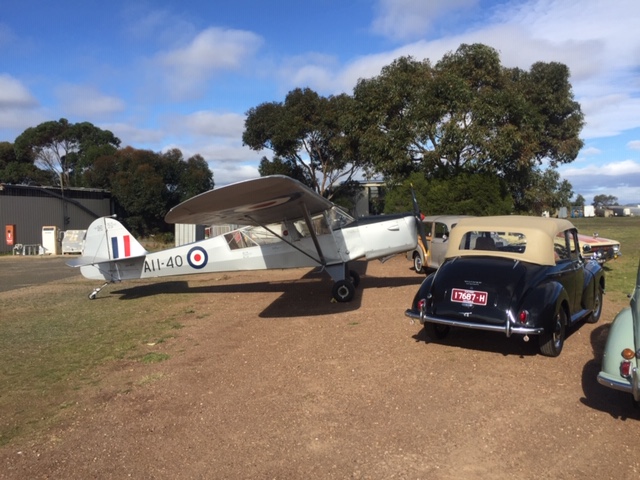 Australian Motoring Heritage Day event shared with the Rootes Car Club and the Morris Car Club of Victoria
We began the day, roadside at Rockbank. There was a great turn up, I am pleased to say the MCCV was well represented with 21 members.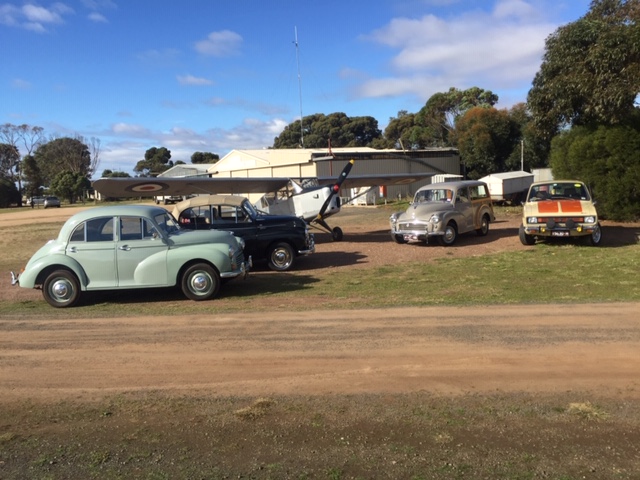 Looking stunning in the sunlight was Adam's beautiful Woody, Rob's majestic black Minor convertible and Billy's demur green Minor four door (see pic with a 1940's fabric covered plane) and a wonderful Hillman Hunter complete with a stunning Holbay performance engine.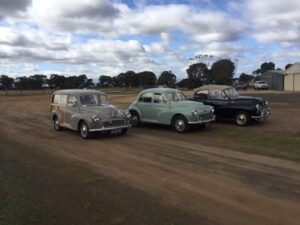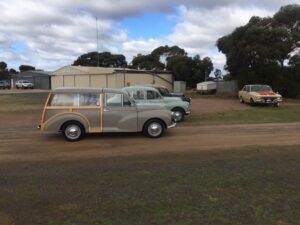 I was not aware that:
Fact 1: there was a gliding museum let alone one not far off our back doorstep located at the Bacchus Marsh airfield.
Fact 2: The link shared with Holbay and the Rootes Group.
Getting to the event was made somewhat more challenging by a pilot eager to move along, not your everyday glider pilot but one punting a heritage Mazda ute along at non-BMC speeds, on ya Tim.
Oh, how I longed for Tony's restraint, but we did arrive almost together although the two clumps took slightly different routes to get there.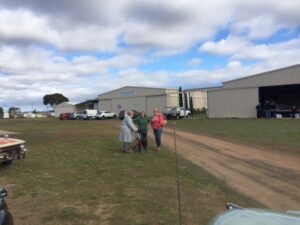 Perhaps the greatest highlight of the day was the insights and information provided by our host David Goldsmith.
David could easily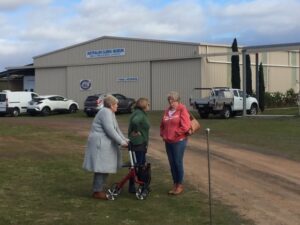 write a book with his knowledge and understanding of gliding, or sometimes known as soaring, development globally and in Australia.
Our tour began outside looking over the plane featured in the pic with the four cars. We moved into the workshops where volunteers work together to restore old gliders that help to build out the museum's collection. Ancient skills are imparted to the volunteers by artisan skilled workers.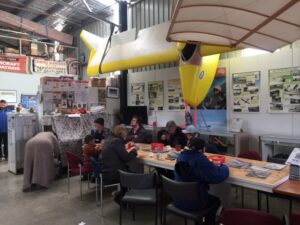 We then moved back into the museum proper to learn more about the early pioneering up to present day manufacturing processes.
If there was a common theme for the event it was really the power of many. As club members restoring our project cars in isolation, we could take a leaf out of the book from the volunteers that work at the museum – tasks shared by many increase the learning, the output, and the camaraderie.
David also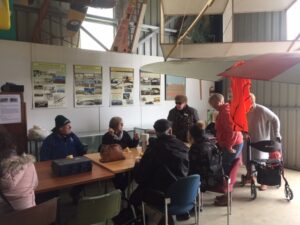 painted such a wonderful picture of the process of learning to become, and then the joy of becoming a glider pilot at the age of 15; being able to disappear for up to four hours in an almost silent craft leveraging the thermals and the elements to explore and enjoy.
Personally, I found the event enormously fulfilling in part because I learned a lot and because we all got to see what a club that works together can achieve.
Our trip to Bacchus Marsh was a memorable one for me. I may yet return to become a member and to learn to fly without an engine; it may have become another item on the life list to tick.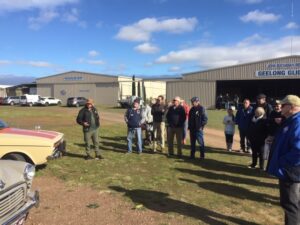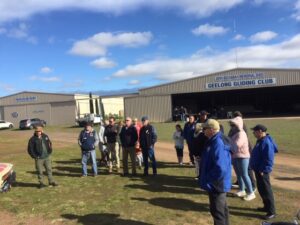 Sincere thanks to Tim for organising the day and to those from the Rootes Group Car Club that shared their day with us. Also, a big shout out to David Goldsmith for making the day the day it was. F]Finally, an apology from a lethargic scribe for taking so long to get this piece out
Present
Tim and Debbie – Mazda Ute
Valda, Graeme & Bella Webb – Modern
Elaine, Penina and Scott Booker – Modern
Joyce and Joe Farsaci – Modern
Rob Quinn – sublime Morris Minor Convertible
Bill Flaherty – Morris Minor four door
Paulette & Shayne Martin – Modern
Kathleen, Nathan & Oliver Morris – Modern
Ian Smith – Modern
Chris & Isabella Wialletton – Modern
Stephen Whitworth – Post Industrial Modern